Anthony P. Picadio
Practice Areas
Litigation • Environmental and Energy Law • Business/Commercial Litigation • Corporate Governance & Shareholder Disputes • Environmental and Complex Torts Coverage • Enforcement • Hazardous Material Contamination • Real Estate Transactions • Permitting and Compliance • Superfund Matters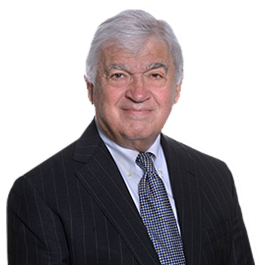 Overview
A business litigator and environmental lawyer, Anthony has represented business clients in significant cases presenting issues involving unfair competition, corporate governance, Sherman and Clayton Act violations, breach of fiduciary duty, fraudulent conveyance, securities fraud, trademark protection, insurance coverage, construction litigation, legal malpractice, commercial real estate, and contract matters.
He also has acted as outside general counsel to a publicly-held real estate development company, a construction company, and an international manufacturer of commercial lighting fixtures. His environmental law practice has involved contribution and cost recovery actions under CERCLA and related state statutes, air pollution regulatory enforcement and private damages actions, and water pollution issues.
Anthony is a former Pennsylvania Assistant Attorney General specializing in environmental enforcement matters and former chairman of an administrative tribunal charged with administering air pollution control regulations in the Pittsburgh region. He has served as an adjunct Professor of Law at Duquesne University School of Law and as a speaker at seminars on various litigation and environmental law topics. He has served on the boards of a number of non-profit corporations engaged in conservation and information technology projects.
Education & Credentials
Education
University of Pittsburgh, J.D. Cum Laude, Editor-in-Chief – Law Review
University of Pittsburgh, B.A.
Bar Admissions
U.S. Supreme Court
U.S. District Court for the Western District of Pennsylvania
Commonwealth of Pennsylvania
U.S. Court of Appeals for the Third Circuit